My Triathlon Gear for SALE ! !
If you are a faithful reader, then you know I am about to head off to mba school which means I am semi-retiring from our wonderful sport for 2 years and need to sell gear. I am becoming a full time student and some book $! This is gear that I can't see using in the next seasons so there is no good reason for me to keep it. I will probably not post it on ebay since I'd rather have a true triathlete use this stuff rather than some random person. It prob will get posted on craigslist/slowtwitch and here.
***Update = COMPUTRAINER IS SOLD! go check out my buddy Nick's site at trijuice.com!  The other items are still available as of 12/10/08, but I am in finals and have trouble keeping up right now…
Please email me at hector "@" iwilltri. com
*If you are in Twin Cities or Chicago/Milwaukee area, there is a good probability that we can arrange where to meet so you don't have to pay postage.
1). COMPUTRAINER PRO – 2007 = $1,100 plus postage if you require it. **SOLD

Complete in box with every normal attachment that comes in the box – that list is found in the link above.
My experience with it: there is nothing else quite like it on the market – you can now buy the full video interactive courses, but even the old ones that did not give you real video help a ton. If you are not believer in trainer workouts then go research that, but for me it was critical living in downtown Minneapolis and wanting to maximize my workout and my time spent on those workouts. It keeps track of everything for you in real time plus the ability to track over time.
My use of it: I bought it brand new in early summer 2007 and underused it before Ironman Wisconsin – probably only 15 times. I then out it away and only started using it again in January of 2008 – then probably rode it 40-50 times before Ironman Arizona. All in all ridden less than 75 times and it has never left my loft's living room. I never traveled with it or took it anywhere else – it shows some usage, but once again used lightly June-Aug in 2007, then serious training from Jan-April 2008.
2). LG Rocket Helmet: $75 plus postage if your require it. I bought this brand new last year ahead of Ironman Wisconsin. I think I have used it for 7-8 races total. I never really train in it at all so u are getting a helmet that hasn't been worn that much.
3). 2007 Speedo Fast Skin two piece (not uni) size Large, red and black, $100 plus postage if you require it. I have used this brand new suit one time, that's is right, one time, that is it – I think that brand new now still puts you over $200… It comes with the shorts and the top. This is made out of exact same material as the one piece uni, it just comes in 2 pieces. You can sizing at the speedo site, but it fits tight and would would probably be best on 5'10-6'1 within the 170-180 pnd range.
It's hard to find a pic of the 2 piece so here is DKT wearing the 1 piece – just remember mine is the 2 piece and it does not have any cool pro logos.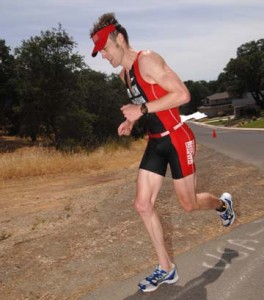 Computrainer
,
gear
,
lg aero helmet
,
sale
,
speedo fastskin
August 26, 2008 at 9:23 pm