Life Time Triathlon: Emma Snowsill 3 time Champ, Simon Whitfield conquers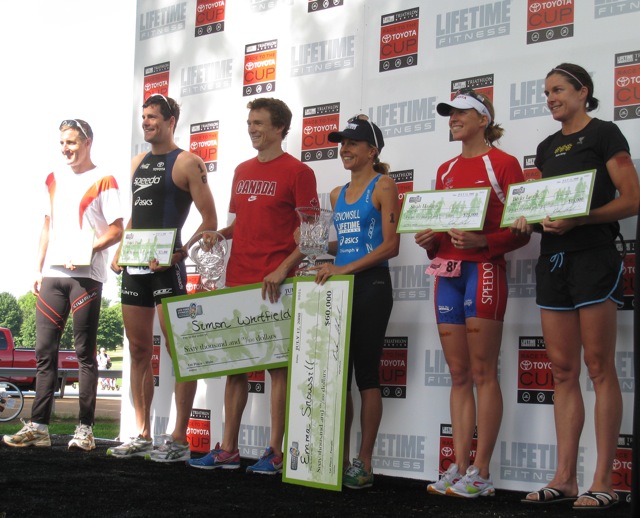 On a day that saw some of the most favorable weather ever, the Life Time Fitness Triathlon in Minneapolis was won by now three time Champion Emma Snowsill, while Simon Whitfield managed to move to the front on the run to conquer the first podium spot on the men's side. In contrast to years past that have been hot and muggy, race weather today proved to benefit the athletes as record times were posted.
In the men's race Andy Potts emerged out of the water first, as expected, but him came an ITU-style pack of men. The large group of about ten had their work cut out in trying to catch a flying Potts, who during a turn actually broke one of the aerobars on his cockpit. When Will Smith came back to transition after pulling out, he reported that Hunter Kemper had received a drafting call and would have to stand down – meaning that one of the fastest runners of the field and previous Life Time Champion would be out of the running. As the men came into T2 the group had splintered a bit, but it was still a pack. Whitfield, a Beijing Olympic contender for Canada, moved to the front by the second lap as Bennett and Potts had a running duel leading into the last 500 meters, with Potts getting the upper hand as they entered the finishing chute. A surprise coming in fourth was Stuart Hayes of Great Britain, with Matt Reed rounding out the top five. This is the first time in a year that Greg Bennett has not stood on the first step, so now it will be up to Simon Whitfield to prove if he can win the super bonus prize since Emma Snowsill will not be racing the New York Nautica Triathlon (the Life Time Series requires a start in each of the five races).
On the women's side, Sara McClarty led out of the swim as usual, but a big pack also emerged to head on to the bike that included the eventual podium finishers. With little reports from the field, we waited at transition to see the lead pack come off the bike together. What has happened at so many races over the past few years happened again as Emma Snowsill moved to the front and did not look back. At the half way point she was running away from the field ending with a 33:57 10k run, while Sarah Haskins improved from her Hy-Vee race to earn second and Becky Lavelle coming in third. All around triathlete Joanna Zeiger proved once again how deadly she can be across distances by running into fourth, while reigning XTERRA World Champion Julie Dibens rounded out the top five women.
On the age group front Adam Webber beat out a stacked field with Nathan White earning second and Mark Harms third. On the ladies side Cathy Yndestad beat her old course record by two minutes, earning her third age group victory in a row. In second place was decorated runner Kristen Nikolini, completing her first triathlon ever and running a 36:12. Third place went to Suzanne Zelazo.
// entire Life Time Fitness Triathlon coverage || every 2008 Life Time Tri video
Professional Result at the 2008 Life Time Fitness Triathlon
Men's Top Ten
1. Simon Whitfield
2. Andy Potts
3. Greg Bennett
4. Stuart Hayes
5. Matthew Reed
6. Brent McMahon
7. Paul Tichelaar
8. Craig Alexander
9. Paul Matthews
10. Hunter Kemper
Women's Top Ten
1. Emma Snowsill
2. Sarah Haskins
3. Becky Lavelle
4. Joanna Zeiger
5. Julie Dibens
6. Mary Beth Ellis
7. Liz Blatchford
8. Rebeccah Wassner
9 Jodie Swallow
10. Amanda Stevens
Adam Webber
,
Andy Potts
,
Becky Lavelle
,
Brent McMahon
,
Cathy Yndestad
,
Craig Alexander
,
Emma Snowsill
,
Greg Bennett
,
Hunter Kemper
,
Joanna Zeiger.
,
Jodie Swallow
,
Julie Dibens
,
Kristen Nikolini
,
Life Time Fitness Triathlon
,
Liz Blatchford
,
Mark Harms
,
Mary Beth Ellis
,
Matt Reed
,
Nathan White
,
Paul Matthews
,
Paul Tichelaar
,
Rebeccah Wassner
,
Results
,
Sarah Haskins
,
Simon Whitfield
,
Stuart Hayes
,
Suzanne Zelazo
July 12, 2008 at 3:51 pm