Ironman Race Report
PRE-RACE: woke up at 4am – had an erin baker bkfast cookie, 2 oatmeal packets, 1 luna bar (they taste so good), 1 pb and honey sandwich while drinking one decaf cup of coffee and a bottle of Gatorade. On way to transition I had a power energy bar.
Walked over to drop special needs bag off (thinking all I would need from the bike one would be food). At trans I realized that my cateye bike computer was not working – I tried messing with it for 20 minutes and neither cadence nor distance worked – last year at Steelhead 70.3 (my A race to qualify for 70.3 world's) I had my hrm go out on bus to swim + then had the bike computer snap off around mile 10 so I figured it must just be something about electronics and my A races…no biggie – I had ridden the Madison course with SCS once, then with Aaron in August – plus negative thoughts at 5:30 am are a waste of time. I relaxed at the helix with the sjogren crew, prayed, got wetsuit on, saw my parents real quick, and we were ready to go.
SWIM (1:12:47): My plan was three stroke breathing most of the way because in previous races I tend to blow myself up by going out too fast and then slowing way down – I knew that race high and nerves would take me down to doing 1:25/100s (too fast for IM) and so I needed something to keep me contained. I lined up maybe 15 people deep right by the first buoy. I was ready for the "violent" swim, but was not ready for how long it took to really start swimming – it felt like forever before I was able to get fully horizontal. Next time I will line up closer to the front and let people pass me by if they need to. I was not tired coming out and my strategy (rectangle = 15 min swim long sides + 2-3 min short sides x 2) worked well and kept my mind from thinking it was "long". The 5,500y swims that Aaron and I did leading up really helped (mentally probably more than physically).
T1 (7:14): pretty busy, but running up the helix was super fun – the crowd support was great! No problems and tons of volunteers to help you with your gear.
BIKE (6:48:03): felt good getting on the bike and pre-riding the course really helped with patience. I had quiet a few people ride away and I felt no rush. I kept hearing gearwest kevin's advice after he had videotaped the course with coach Troy for those "virtual reality videos" he is producing: "you should feel like you are sleeping through the first half – take it easy and be patient." I rode comfortably but could tell that even out of Verona I was passing people that had gone too fast in first 15 miles. Granted I had no bike computer so I don't know exact pace but do remember figuring out that I was within the 18.5-19mph range after 40 miles. Then I got a flat which is the 1st time ever for me at a race, and 1st time ever with tubulars. I think it was around mile 48-50 but don't know exactly. Anyways, I really jacked up changing it, then walked part of the course hoping someone would give me a co2, rode on the hed3 carbon rim for a while, then finally got going prob 1/2 hr later. Some rookie mistakes plus some lack of preparation (I did not look at my watch for "pit stop split"/didn't keep up nutrition plan/didn't wrap my extra tubular in special needs small enough so that attaching it to saddle would take 20 secs instead of minutes) took out 25-35 minutes of my race. Thought I was extremely frustrated, I still had a ways to go so I just tried to keep it out of my mind and realize that I could still crank out a decent marathon. I remember reading Mark Allen saying that every ironman will not go exactly as expected, so I figured the time off the bike was just one of those surprises. My coach, Mike McCormack had also reminded me of how the last section back to town is not flat and to remember to stay steady because the marathon is still ahead.
T2 (3:03): Boy was I happy to get back to the helix, I remembered talking to nate tollefson (fellow 1st time IMer and strong 41yr old AGer in Minneapolis) before the race and saying how I just wanted to have the opportunity to finish ex-outside issues (if I blow up or dnf, I wanted it to be nutrition/fitness = not lost goggles/chain brake/crash, etc), so while my flat cost me huge amounts of time, I was ready for the run and excited.
RUN (1:50:34 + 1:50:56 = 3:41:30): I had confidence from a good season, and specifically from a 19 mile M2 workout where I avgd 8:02s, so I knew that my run was where I wanted it to be. I started off running easy for first 2 miles, but realized that 8:30s were coming fairly easy and effortless. I decided to try to stick around this zone and if I saw myself speeding up to low 7s I'd back off knowing that was outside my fitness (garmin 305 helped). I started passing tons of people and started to feel really good, with the miles going by nice and easy. I decided on a 4x10k + anything I got left for the marathon – the first six went by super fast and by the halfway point I saw 1:51 on my watch. I then knew I could be in the hunt for a 3:3x time but eased into miles 13-15, knowing that many people hit the wall at 18. Once I had 10 miles to go I knew I was going to have to start finding at least 10sec/mile to get under 3:40 – but by the time 20miles came I had to find more and more secs/mile (and I had forgotten about the extra .2 in 26.2!). I knew I wasn't going 3:3x anymore so tried to hold on. I passed 663 people on the run, but had about 4 or 5 pass me in last 5 blocks as I started to fade.
Overall = 11:52:37. Very satisfied with first ironman, no major blowups (sure tire issues sucked but I could have had someone crash into me, broken my elbow, and never even made it out of T1 – which did happen to a fellow MNsotan on that day), lots of lessons learned, great course, great support from volunteers and family, and I will be back for at least one more. People on the trading desk have been asking me what it was like to finish (we have a few guys that have done marathons) and I keep telling them, finishing a marathon is cool, but becoming an ironman is more like marathon to the 10th power. I have come a long way from being a 200 pound guy only interested in lifting weights and while the event is an individual challenge, getting there was only possible for me thru the support/love/prayers/ and encouragement from my wonderful wife chelle, my family (usa & guatemala), aaron and merrie, gearwest, coach M2 mccormack and countless others. And of course I am extremely thankful to God that He has kept me healthy enough to do crazy things like racing 140 miles.
I'll be posting videos soon of the 11:30PM crowd doing the YMCA and Frank Farrar (the incredible 78yr. old) finishing with 3.5 minutes to spare.
.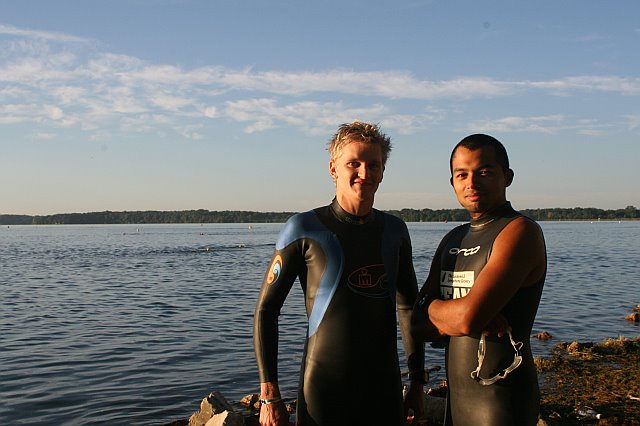 September 14, 2007 at 9:02 pm