Ironman Arizona 2008 Video: Michellie Jones Interview
Ironman Arizona Video Collection: the Michellie Jones video interview.
This Michellie Jones video interview was shot right after the pro press conference before Ironman Arizona. She has a Silver Olympic Medal, most triathlon wins, and an Ironman Hawaii World Champion crown, aside from one of the sweetest Felt's I have ever seen (pink brake cables!). She is clearly a top favorite again for this year's Kona race, but I also asked her about her picks for this year's Beijing Olympics. You can see how fit and lean she looks versus us regular joes!
MJ's website is at gomichellie.com | Every single IMAZ video here | MJ video interview at Chicago Triathlon 2007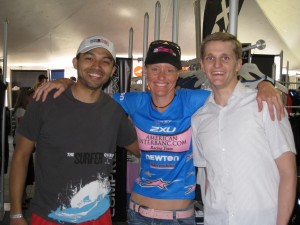 Aaron Sjogren
,
IMAZ 08 video
,
Ironman Arizona
,
Ironman Hawaii
,
Michellie Jones
May 16, 2008 at 9:39 pm