Heart of the Lakes Triathlon Results, report
Below is the link to the official Heart of the Lakes Triathlon results for 2008. Congrats to Brian Bich and Cathy Yndestad. I've said it before and I'll say it again, Cathy's year is out of control and not_one_triathlete that calls Minnesota home is close to having the year she has had – 9 out of 10 races she has done have come with the top podium spot and the race she did not win, Apple Du, does not matter in tri world. I'd like to know if there is any other triathlete in the country that has won every single triathlon they have done this year….
My short Heart of the Lakes race report goes like this: the 10 pounds I've gained since IM AZ, not swimming since Lake Waconia Tri, and totally random training finally came back to bite me. My swim was horrible – 18x -ha! and a 22.9mph is barely respectable, with a 6:27 run pace ok but nothing to write about. So anyway, the thing that DOES make me happy about racing in Minnesota is that YOU CANNOT HIDE. Our state – from the under 19 crowd, to the middle 30s, to the Master's crowd is super competitive. If you show up with your B game you might get sent to the C lane in no time – well I'm not used to getting B's in school but I got rocked and I'd give myself a D.
It was great to see some guys I beat last year in my ag move up and get on the podium, as well as seeing the lead girls on the run and yelling at them. When I came up on Cathy I knew she was going to win another race and I could barely yell "one more win Cathy!" before she was gone toward the finish chute and I was off to try to run down some 25-29 guys. I ran down maybe 3, but ran past some friends, including my sister in law Tammy which was fun. And yes, the iwilltri.com custom splish suits were on display. Aaron and I did our best to bring Mark Allen and Dave Scott to HOLT and I think that if we were four times as ripped and twice as fast we might have a better chance at a true replication.
I have decided that I am done..that is it. I was halfway considering doing Chisago Half but I don't want a 5+ Half IM on my record and moving to Chicago this week will be work enough. So what is next? Well trying to run as much as possible in the next 8 weeks (2wks in Beijing will be tough) before b-school starts and the craziness takes over. My twin cities marathon-boston qualifier might have to wait for another year…
Lastly, congrats to my best tri friend Aaron. He put six minutes into me and ran the closest he ever has to me. I'll miss doing all the races and training with you dude!
OFFICIAL Heart of the Lakes Results
Aaron and me – true tri friends through many races, 2 Ironmans, and more than a few "this workout is so hard that we are entering the no-talk-zone-for-next-hour."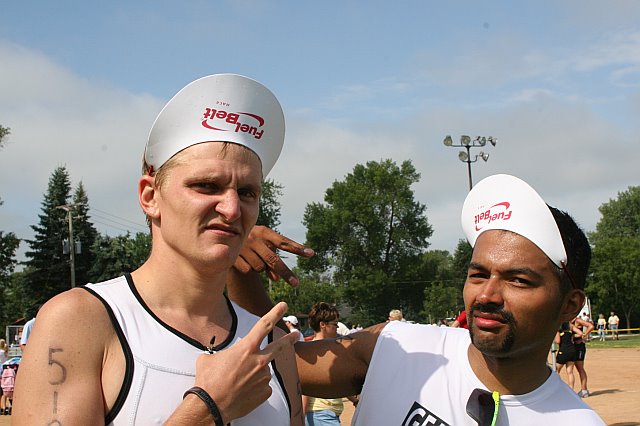 Brian Bich
,
Cathy Yndestad
,
Heart of the Lakes
,
Minnesota Tri
,
Results
July 20, 2008 at 9:39 pm