Cervancho + Race Gear
Yes a whole page dedicated to my bike and race gear – though as of summer 2008 it a little date – I no longer use Hed3s since I'm raising grad school money by selling gear and instead try to borrow wheels…
Cervancho is a Cervelo P3SL
Recently I added FSA carbon racing bends, and I have changed the saddle to a San Marco Azoto, but apart from that ther rest is just the stock buildup.
For races I ride Hed3 Carbons, though I might get to borrow a Hed disc from Aaron since he got a huge upgrade in Zipp zedtech 808s from his wonderful wife…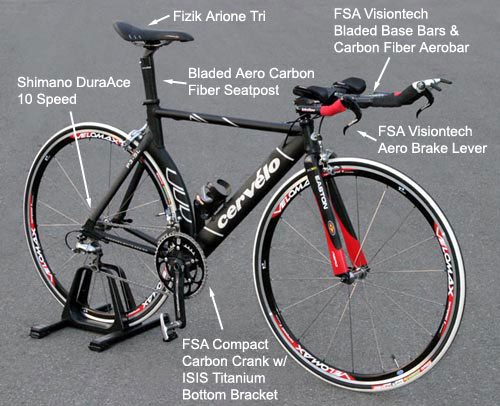 (this one shows an easton fork, but I have the stock Wolf TT)
Actually this pic is from the great Tom Demerly (BikeSportMichigan) review
Frame – Aluminum SL Anodized
Fork – Wolf TT
Headset – Cane Creek IS-2
Rims/Wheels – Easton Vista
Crankset – FSA SLK MegaExo Carbon
Bottom Bracket – FSA SLK MegaExo
Front Derailleur – DuraAce
Rear Derailleur – DuraAce
Rear Cogs – DA 11-23
Shifters – DuraAce
Handlebars – Vision
Brake Levers – Cane Creek TT200
Brakes – Zipp Carbon
Saddle – Selle San Marco Azoto
Seat Post – Cervelo Aero Carbon


Hed 3 Carbons: Steve Hed is a genius, a Bethel grad (where 3/4 of team swedemala went), and a local (White Bear Lake) gearhead that took his garage inventions to a whole new level.
. .
The latest addition comes from me turning 28 on 5.21.07! (aaron and I really wanted the giro advantage, but it's not legal in USA yet, and the release dates keep getting pushed back).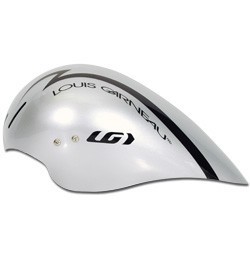 Ok here is the full race gear list:
The get-up:
-Zoot tri shorts: side leg pockets, ultra comfy, I don't buy anything else anymore.
-Orca top or Orca Uni. Hopefully custom splish iwilltri.com speedo one of these days
-Polar heart rate monitor (no heart rate monitor for any summer 08 race)
–GW race belt : you need one, come on it's not a weak running race.
–New-Skin: all over feet to not get blisters. ballerinas use it – so should you.
Swim:
–Orca (Evo equivalent now) sleeveless Team in Training-issued: I don't have a swim background = shoulders feel constricted with full.
–Aqua Sphere Kaiman goggles: tinted ones for the bright morning.
Bike:
–Cateye Astrale 8 with cadence bike computer: does the job. (if u are my long lost rich uncle with an SRM call me)
–Hed 3 Carbons: love them, love them, love them.
–Hed skewers (matching! yes!): actually right now borrowing aarons…
-Arnette sunglasses: can't even find them on the internet, but rimless for full vision in aero position.
–Louis Garneau Rocket helmet.
–Sidi T2 shoes
-Nutrition depending on distance: marathon bars, power gels (orange and and double latte), whatever drink they serve on course – I don't mind gatorade endurance at all.
–Profile Design Aero-Drink: only for longer than oly – you thing it's too much/heavy? ask the normanator.
Run:
–White GW visor: it gets very hot in the midwest in summer (racine '05 = 110 degree heat index)
-same sunglasses as bike
–Asics ds racers: added these last year, the red makes you go fast.
–GW black socks: only if longer than oly
-Nutrition: same as above, though I'll get some caffenaited gels out, experimented with cola last yr.
Finish:
-Pizza, black beans (they had them at clearwater last yr. for us internationals! yes!), bread, pasta, water, coke, fruits, ice cream, gearwest hot dogs – whatever they are offering…
But the Official Team Swedemala Post-Race Meal is a delicious and economical meal at McDonald's. There is nothing better than big salty fries, with a big Coke, and a big burger. Aaron prefers big macs, but I like a double quarter pounder with a chocolate sundae to top it off.
*I am not kidding about this, we actually DO like McDonald's and I no don't want to hear anything about fastfoodnation or supersize me.