Carlos Sastre wins Alpe d'Huez!
Well I'll be honest, year after year I have grown less and less interested in cycling – the doping rumors, revelations, and persistent jokery out of the tour owners, managers, and cyclists has dampened my desire to spend any time watching it. The interesting thing is that as my interest was lessening, Chelle's has grown. So for this year's Tour De France, Chelle is the one turning on VS, keeping track of the leaders, and pretty much telling me what is going on – which is what happens for me in every sport except triathlon or futbol. BUT, Alpe d'Huez is different.
It is just plain different – the grandest stage (1M people lined the roads in '04!) with the greatest number of fans yelling at 100 guys on two wheels to get up the road.
These most famous switchbacks in all of Europe make me sit down and pay attention year after year. This morning was no different and it was quite a race.  A bunch of attacks as usual, but my man Sastre from Team CSC (yes they ride Cervelos, yes I ride one too) was finally able to break away and stay ahead by over 2 minutes.  Sure there are till days left, specially the Time Trial on Saturday, but since this will probably be my only post on the 2008 Tour De France, I thought I'd get some old pics out of the collection.
Carlos signing my CSC hat back at Spain's La Vuelta 2006, in Cuenca, Espana before the time trial.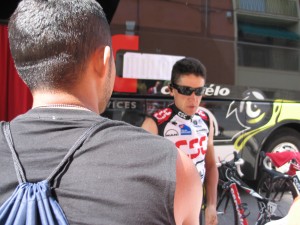 * by the way, if your significant other is not into a sport that you like, take them to one of the major races and chances are they will get hooked!
Carlos Sastre
,
La Vuelta
,
Team CSC
,
Tour De France
July 23, 2008 at 10:41 am