2008 Ironman Arizona Race Report
IRONMAN ARIZONA 2008 – THE DESERT TRIED, BUT FAILED TO STOP ME.
Woke up at the condo 3:45am, had 2 oatmeal packets, 1 Erin Baker apple cookie, 1 PB and honey bagel – had a large Nalgene of Gatorade Endurance that I sipped on till getting to Transition. In the car drive had a Zone bar plus more Gatorade.
Setup: everything went well except for Chelle and I having to figure out road closures since our regular route was down Aaron and I checked out bikes/pumped the tires, everything was set – I was sipping on a water bottle instead of Gatorade at this point. After having a non-caffeine power gel, we prayed with Aaron's family and were set to go.
Goals for this race were: swim under 1:10, bike around 5:30, run 3:30, get sub 10:30 total. I wanted to redeem myself from my lousy bike split at IMWI (total time there at my 1st IM was 11:52:37) and really race my second Ironman.
*I have included my training breakdown of IM Wisconsin vs Arizona, as well as race performances.

Swim 2.4 miles [rectangle course] (Aqua Sphere goggles, Orca 2005 middle of line sleeveless wetsuit from Team in Training):
I had a "dark moment" in the swim right away – which being my worst sport is normal. The combination of an extra hyper mass start (and I'm a big guy, I can't imagine what a 105pd girl felt) with the sun straight in your eyes and everyone splashing to get ahead was hard. My new tinted goggles had been fogging up but I thought "they'd be fine" come race day – bad mistake should have fixed that. 10 minutes into it my right goggle was leaking and I couldn't fix it which lead me to worry about my contact floating away as it has in the past (fyi, I had an extra pair of contacts taped under my aero bars, and 1 pair in each T1 and T2 bag). I was not able to hold on to the draft in front of me as usual so I swam alone for awhile and would randomly end up to the right or left of the buoys…I knew I was putting in a decent effort but the sub 1:10 was probably not going to happen – as soon as I got up the ladders and looked up at 1:14 I was mad but knew that it was early and that I had to concentrate on the bike.
IM WI '07: 3mth build = 30.5 hrs/ 80,750 yards. Race = 1:12:47 / 1:54 per 100 meters.79/156 in 25-29AG, 751th overall.
IM AZ '08: 3mth build = 30 hrs/ 80,950 yards. Race = 1:14:16 / 1:58 per 100 meters. 86/141 in 25-29AG, 917th overall
Nutrition: lots of lake water in each!
T1 (IMWI 7:14 / IMAZ = 5:50): There were so many guys in the changing tent that I just put my shoes and helmet on outside the tent and tried to stuff my wetsuit into the bag as fast as I could. I had Desoto tri shorts with an Orca 2007 top. I carried a baggie with co2, contacts, one gel, and 1 tire lever that I would only open if I got a flat. I had 2 bars and a gel rubber-banded together that went in the other pocket of my jersey.

Bike 112 miles [3 lap course] (Cervelo P3SL, most stock parts, Zipp 404 tubular front, Zipp 900 disc tubular rear, profile design aero drink, LG Rocket aero helmet, Sidi T2 shoes):
If you read any IMAZ race report you will read the same three words: hot, windy, hot&windy. After a winter on the computrainer the wind on the BeeLine smacked me right away. After a few races where I have blown up going out too fast, I knew I'd have to conserve hoping that the way back south would be faster, and it was. I probably averaged 12-14 mph on the way out, and over 30 on the way back. At 173 pounds I am a heavy Ironman and the Zipp disc definitely helped me blow past most on the way back down. The second lap was tough as I knew my initial bike time was now unreachable and I was still thinking of my 3:30 marathon goal so I tried to manage energy. By the third lap I was really ready to get off the bike so I pushed it a bit more and ended up making up some time. I only peed once on the bike so I knew that I was doing a decent job of hydrating but I had to be really diligent about it (at Wisconsin I peed 4 times) and get my food down as the scorching marathon was next. The three laps actually helped me to break the 112 miles down and I did not suffer too much mentally on it (I thought about my friends back home at church, family back in Guatemala, and the 3:30 marathon).
IM WI '07: 3mth build = 73.6 hrs. / 1,164 miles. Race = 6:48:03, 16.47 MPH / 128/156 in 25-29AG, 1393th overall
**I had a flat at WI, screwed up changing it, and ended up off my bike for ½ hr waiting for help…
IM AZ '08: 3mth build = 98.7 hrs/1,746 miles. Race = 5:51:33, 19.1 MPH / 36/141 in 25-29AG, 378th overall
Nutrition: 1 Gatorade bottle and 1 water per hour (some to cool off). I had about 4 gels, 3 bars, 1 pb and honey sandwich (from special needs bag), 5 Hammer electrolyte pills.

T2 (IMWI 3:03 / IMAZ = 2:11): So glad to be off my bike and ready to run the 3:30 I had been planning. I had a pretty fast transition and took as much Vaseline from the nice volunteer as possible – I knew I was probably sun burned and figured the next 26 miles would create some nasty rashes.
Run 26.2 miles [3 lap course] (Asics 2100s, GearWest run hat, same shorts/top, Garmin 305 watch): I was off towards mile 1 running right next to one of the pros for ½ mile before settling down and making sure I was going the right way. I was just happy to be on the run and was passing people left and right and started counting them – sure I knew that I was on a multiple lap course but counting people I pass is a distraction (of course if someone passes me I subtract a number). I was hitting the miles right where I needed to be but to me it felt like the sun was starting to heat up even more and the "no shade" pre-race warning was exactly accurate. I hit the first 8 miles right at 64 minutes so I knew I was on pace – but as soon as I started going back around I knew the sun would slow me down and by the half marathon mark I knew 3:30 was probably out but I wanted to stick as close to 3:40 as possible. The last 2.5 hours were the toughest of any race I have ever done as people were walking all over the place, people getting carted away, one guy lying on the course waiting for meds, etc. Post 14 miles my rule quickly became to run between aid stations and never walk between. I had to repeat to myself don't walk b/n aid stations many a time but I also thought of my grandpa and dad being there to encourage me (they actually live in Guatemala and Costa Rica). Some might say I went out too fast – looking back that might be only slightly true since I think I would have slowed down in the second lap regardless of what my first one looked like. By the third I was ready to be done and picked up the pace – I got to run down the chute by myself and actually high-five the crowd and see my wonderful wife. I zipped up my jersey, lost the sponges (no Macca for me!), and was ready to give Chelle a big hug.
IM WI '07: 3mth build = 40.3 hrs/ 272 miles. Race = 3:41:31, 8:28 per mile / 25/156 in 25-29AG, 146th overall
IM AZ '08: 3mth build = 52.8 hrs/ 353 miles. Race = 3:44:03, 8:34 per mile / 14/141 in 25-29AG 107th overall
Run splits 3.5 mi (8:08s), 8.5 mi. (8:24s), 8.5 mi. (8:54s), 5.7 mi. (8;28s)
Nutrition: I did a cycle of: 1 aid station fast (run through it grabbing any sponges and ice for my hat, drinking Gatorade) and 1 aid station walk (drink coke, get sponges and a full hat of ice). I had 4 caffeinated gels and 5 hammer electrolyte pills. I'd drink water instead of Gatorade or coke at the aid station if I had just gulped down a gel.
*25-29 AG means age group category.

TOTAL 140.6 miles: 10:57:50, 19th out of 141 male 25-29 year olds, 191st out of 2,027 (337 did not finish).
IMAZ really kicked my butt and while my time was half an hour more than what I wanted, I learned several lessons:
1) There is no easy way: yes I really like Gordo's saying but I thought of that many a times on the bike and even more on the run when during the first mile I encountered quite a few people walking already. There were many questions out there (including the one about "hey that tree with shade looks nice, maybe if I laid under it for a few minutes I'd feel better") but I managed to come up with answers to most and kept on moving.
2) The team matters: my wife Chelle was extremely committed to my preparation and race, my friends supported me from far away, my training partner Aaron helped me to get through winter training (we both will never do a spring IM ever again), I have built a network of "tri-mentors" to bounce ideas off of, and lastly I have read and learned from many whom I will never meet. All sorts of encouragement, advice, mistake-avoidance techniques, suggestions, and conversations joined me on my trek up and down the Bee Line Highway and around Tempe.
3) Success can come from unmet expectations: I swam 5 minutes slower, biked 1/2hr slower, and ran 15 minutes slower than I wanted. And yet as I ran into the finish chute I couldn't help but smile. The goal I had signed up for last summer had been met and while I had suffered more than in any other event I had ever done, the result was something I was proud of. No drugs, no cheating, no cutting corners – it was not the exact result I had looked for but it was the result I deserved on that day.
The thank you list will be coming out later, and yes it will be very long…
Hector. more pictures at: flickr.com/iwilltri
P.S.I won't be doing another Ironman for a few years since Kellogg awaits me for the next two years, but the dream for Kona has not died yet – it will just have to be delayed for a few Octobers.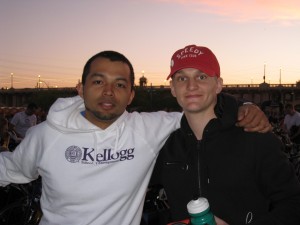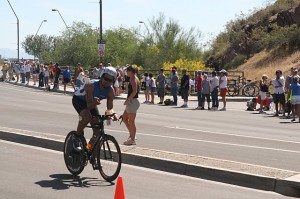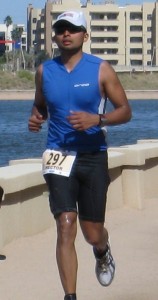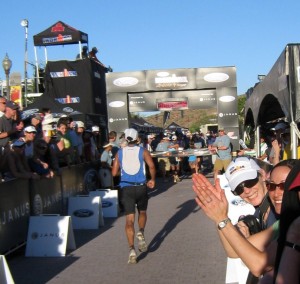 Aaron Sjogren
,
Cervelo
,
Chelle
,
DeSoto
,
Ironman Arizona
,
Ironman Wisconsin
,
Orca
April 30, 2008 at 8:38 pm